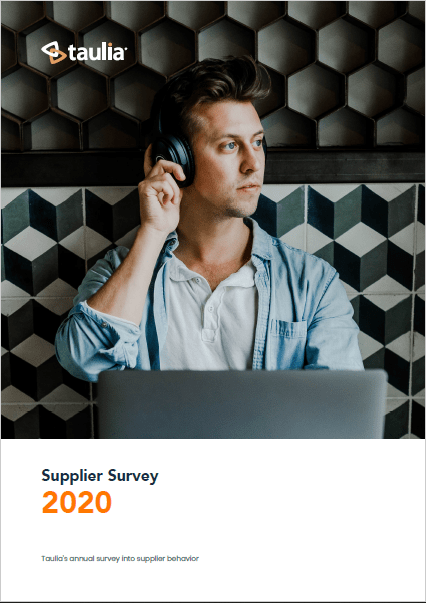 Supplier Survey 2020
During these uncertain and disruptive times, we must do what we can to tackle challenges, while also keeping an eye on the future and the opportunities it presents. What we have recently seen is the proliferation of technology being utilized across all aspects of industries worldwide; from healthcare to retail, to financial services and manufacturing. Technology is proving to be one of the key levers businesses can pull, especially in the SME market, to differentiate and thrive. Fintechs are helping businesses to unlock cash to handle these tough times and capitalize on potential emerging opportunities.
To encapsulate the scope of this potential and determine solution utilization, we've conducted our annual survey (November 2019) with responses from 19,424 suppliers across a wide range of industries, sizes, and geographies.
More from Taulia
In the last 12 months, procurement teams have evolved rapidly while adapting to the new landscape. As we head into 2021, here are the top five procurement risks that need to be front of mind for organizations – from the risk of supply chain disruption and changes in customer behavior, to the rise of remote working and a growing focus on Environmental, Social and Governance (ESG) considerations.
With global governments keen to protect small businesses from gaps in cash flow created by long payment terms, companies across the world are adapting and rebuilding. Understanding the cash flow impacts of payment terms regulation is a key part of this. Download this whitepaper for an in-depth look at how alternative finance can strengthen supply chains and give businesses the flexibility to grow.
From the Americas Procurement Congress Virtual 2020 and World Procurement Congress Virtual 2020, here from Taulia as they showcase their platform and solution in a practical video demonstration.