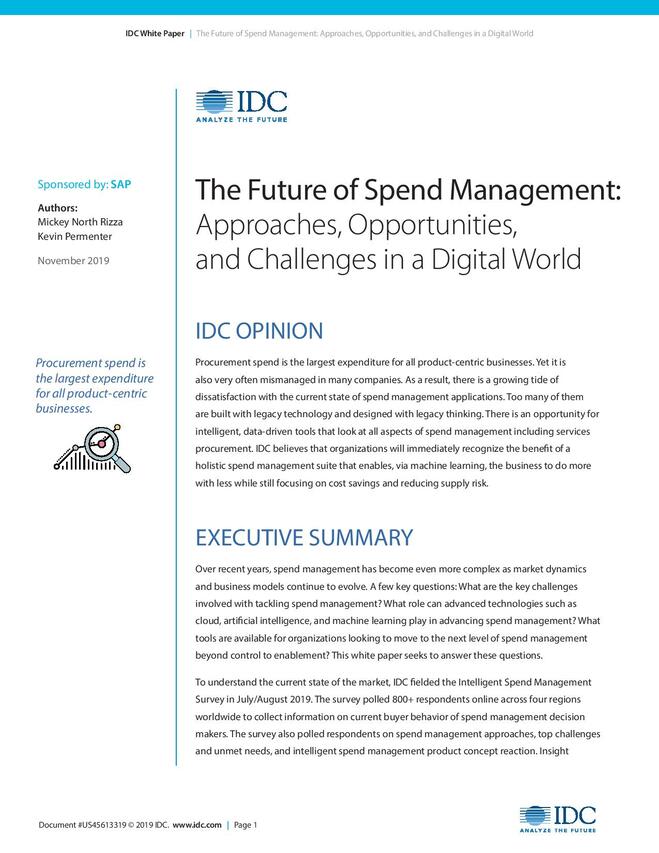 The Future of Spend Management: Approaches, Opportunities, and Challenges in a Digital World
Procurement spend is the largest expenditure for all product-centric businesses. Yet it is also very often mismanaged in many companies. As a result, there is a growing tide of dissatisfaction with the current state of spend management applications. Too many of them are built with legacy technology and designed with legacy thinking. There is an opportunity for intelligent, data-driven tools that look at all aspects of spend management including services procurement. IDC believes that organizations will immediately recognize the benefit of a holistic spend management suite that enables, via machine learning, the business to do more with less while still focusing on cost savings and reducing supply risk.
Procurement Leaders may share your data with SAP Ariba so that SAP Ariba can contact you by email or phone to provide more information related to the content in accordance with SAP Ariba's privacy statement".
More from SAP
Get six simple and effective tips to help you move beyond the low-hanging fruit to become a cost-reducing and margin-enhancing master within your organization. Download the guidebook today.
Everything is connected – and procurement's ability to collaborate across their complex supply chain is critical. Download the Smart Supplier Collaboration guidebook and learn how to overcome the most significant supply chain collaboration challenges by transforming sequential, linear, time-intensive processes into dynamic, digitally-enabled real-time ones.
At a time when agility is central to many businesses' strategy -and even viability- engaging these external workers effectively has become a critical competitive differentiator.