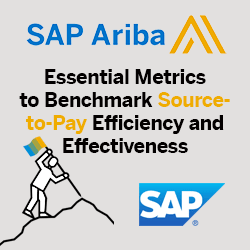 Essential Metrics to Benchmark Source-to-Pay Efficiency and Effectiveness
Your new digital procurement system is fully implemented, your organization is live with transactions flowing through the system. Separately, your sourcing department has started running sourcing events on their e-sourcing tool and claim that they are doing multiple events each week. But how do you know that it is working according to plan? How does your current performance compare to peers? How do you identify pain points with your new implementation? In this report, you'll learn: • The essential metrics to measure source-to-pay performance • The gaps between your organization's current performance against peers • How to improve your performance within the process areas Download this SAP Ariba report to measure the success of your implementation, or improve your current performance.
Procurement Leaders may share your data with SAP Ariba so that SAP Ariba can contact you by email or phone to provide more information related to the content in accordance with SAP Ariba's privacy statement".
More from SAP
Get six simple and effective tips to help you move beyond the low-hanging fruit to become a cost-reducing and margin-enhancing master within your organization. Download the guidebook today.
Everything is connected – and procurement's ability to collaborate across their complex supply chain is critical. Download the Smart Supplier Collaboration guidebook and learn how to overcome the most significant supply chain collaboration challenges by transforming sequential, linear, time-intensive processes into dynamic, digitally-enabled real-time ones.
At a time when agility is central to many businesses' strategy -and even viability- engaging these external workers effectively has become a critical competitive differentiator.