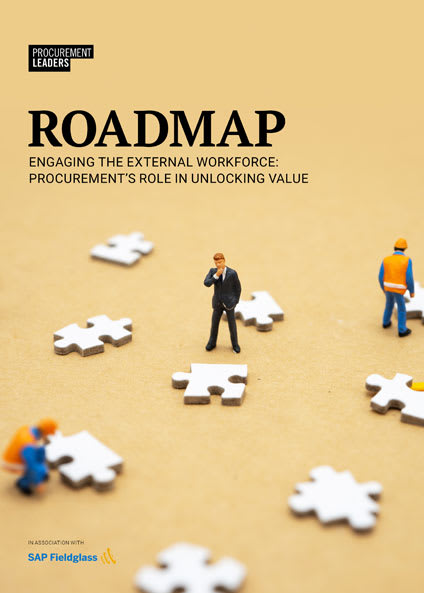 Engaging The External Workforce: Procurement's Role In Unlocking Value
At a time when agility is central to many businesses' strategy -and even viability- engaging external workforce effectively has become a critical competitive differentiator.
This whitepaper, published in partnership between SAP Fieldglass and Procurement Leaders, looks at best practices to help develop an external workforce strategy, combined with technological capability.
Use this resource to:
Gain insights into how smart organisations are solving familiar challenges around their workforce spend: governance, flexibility, visibility.

Better understand the business outcomes that a vendor management system can deliver

Learn what next steps to take to develop this strategy and begin to see returns
Procurement Leaders may share your data with SAP Fieldglass so that SAP Fieldglass can contact you by email or phone to provide more information related to the content in accordance with SAP Fieldglass's privacy statement
More from SAP
The external workforce gives companies agility and business resiliency, helping to support peaks and fluctuations in demand. For a closer look, SAP collaborated with Oxford Economics to interview 2,050 executives and found a group of organizations outshine others. Download this report to learn the secrets of their success.
Supplier risk is at the forefront of executives' minds following the widespread disruption in 2020. COVID-19 went far beyond organizations' stress tests and changed our perception of business risk. SAP collaborated with Oxford Economics to surveyed 1,000 procurement and supply chain executives. The results revealed how organizations are managing supplier risk, the challenges they face, and where they need to improve.
The disruptive events of 2020 put Procurement in the spotlight like never before. Businesses must anticipate and prepare for further disruption. SAP collaborated with Oxford Economics to check the pulse of procurement digital transformation, by surveying 1,000 procurement and supply chain executives, and identified a group of leaders who stand above the rest. Learn what they are doing and how you can join their ranks.