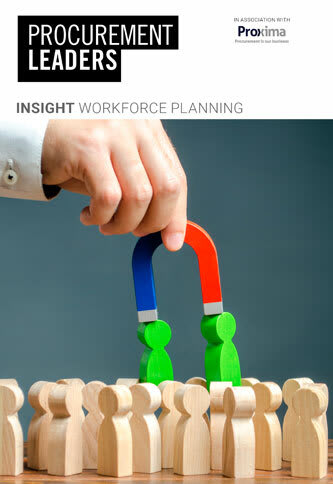 Insight: Workforce Planning
Procurement is facing nothing less than a global capability crisis that experts warn is set to worsen over coming years as CPOs seek to upgrade existing processes, skills and competencies to maintain optimum effectiveness.
Forward-looking procurement chiefs understand they must address these growing capability and skills shortages urgently, as they will only be ever more serious as the function evolves to become more strategic and business focussed.
Download Procurement Leaders' Insight: Workforce planning whitepaper to hear from distinguished CPOs, senior consultants, academics and recruitment specialists about:
The steps procurement chiefs must take to equip their teams with the capacity and capabilities they will require to succeed in future.
How senior procurement executives should adapt their recruitment processes to attract talent with the specialist knowledge and skills that fast becoming a necessity as the function become more bespoke and agile?
The issues around attracting top talent to procurement roles?
Ways to enhance the proposition of a career in procurement to up-and-coming business leaders.