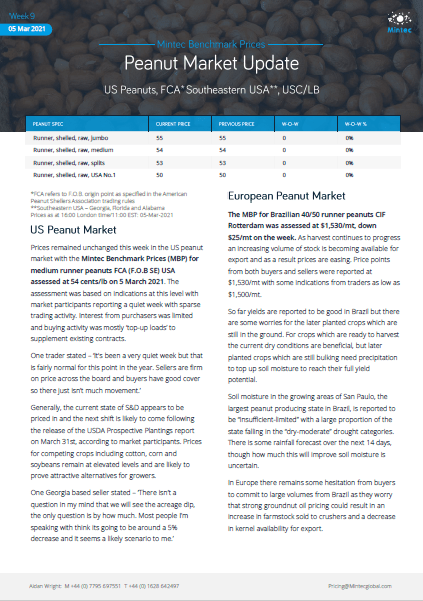 Mintec Benchmark Prices - Peanut Market Update (March 2021)
Prices remained unchanged this week in the US peanut market with the Mintec Benchmark Prices (MBP) for medium runner peanuts FCA (F.O.B SE) USA assessed at 54 cents/lb on 5 March 2021. The assessment was based on indications at this level with market participants reporting a quiet week with sparse trading activity. Interest from purchasers was limited and buying activity was mostly 'top-up loads' to supplement existing contracts.
More from Mintec
How is the Plant-based protein market expected to impact procurement leaders and their direct raw material costs?
The top food & commodity price movements impacting Europe, the US and the rest of the world (week beginning 22nd March 2021)
Series 1 - The milk comparison