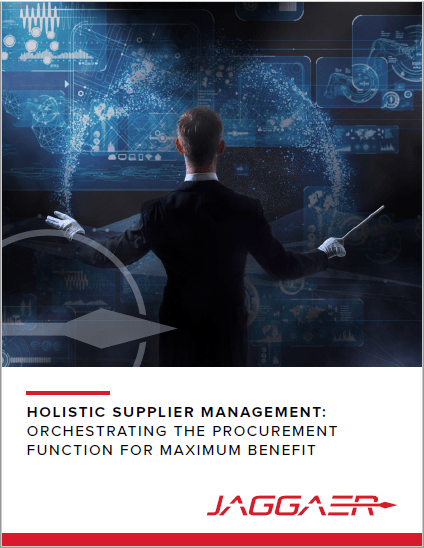 How To Achieve Holistic Supplier Management
Supplier management is at the very heart of procurement and it is no easy task. Managing suppliers effectively to perform in harmony with your business strategy is rather like composing an orchestral piece of music and then conducting all the different instruments in the orchestra itself. Each supplier needs to be treated on a case-by-case basis – but when you have hundreds of suppliers, that is challenging.
More from Jaggaer
Procurement is a complex function that requires a lot of both flexibility and collaboration. At the end of the day, ERP capabilities just simply are not a fit and leave a lot to be desired.
Over the course of 2020, Procurement teams have had to demonstrate extreme agility and resiliency in the face of the Pandemic. Processes had to be adapted and remodelled to allow for rapid decision-making and efficient cross-functional collaboration. Data leveraging and Marketplace Intelligence are a crucial part in making this happen. Yet, in this climate of uncertainty, how can one trust the information gathered? What processes and solutions need to be in place to leverage this data efficiently? And how can this truly help Procurement support the business' decision-making and grow in this new normal.
From the World Procurement Congress Virtual 2020, here from Jaggaer as they showcase their platform and solution in a practical video demonstration.