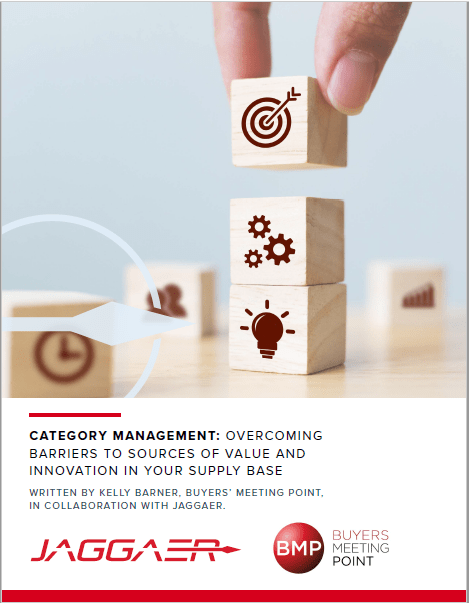 CATEGORY MANAGEMENT: OVERCOMING BARRIERS TO SOURCES OF VALUE AND INNOVATION IN YOUR SUPPLY BASE
Our white paper, Category Management Through Embedded Intelligence—Part 1, provides a better understanding of the category management process in purchasing and reveals the three most common barriers to defined, operationalized category management: expectations, strategy, and visibility.  
In this paper you will learn how to:
Set expectations through detailed analysis. The more you can connect the dots between suppliers and relevant external forces, the more powerful the data.

Combine category strategy with optimal levers. Understanding what category management means for your organization and identifying the data that is needed to track performance against category specific KPIs.

Harness the power of actionable visibility. Appropriately leveraging the information about each category and deploying technology to increase category management efficiency.
More from Jaggaer
A strong supplier strategy is crucial today. From pandemics and natural disasters, to political unrest, and economic uncertainty, there are a lot of ways a supply chain can elevate (or damage) your business. We've assembled some of the biggest names in the industry to bring you insights on supplier diversity, supplier risk, and how to supercharge your supplier strategy. The series of three webinars will run from October to December.
Learn about the technologies behind autonomous procurement and how to use it to create more value within your organization.
There are many organizations leveraging assistive intelligence, which is a combination of rules-based processing and low-level robotic process automation (RPA), for invoicing, sourcing, and contract and supplier management. As we see these technologies mature, we are likely to see them filter into automating more processes and job functions in the future. In fact, some industry experts predict by 2024, more than two-thirds of management tasks will be automated to some extent, with AI being the primary technology behind this trend.