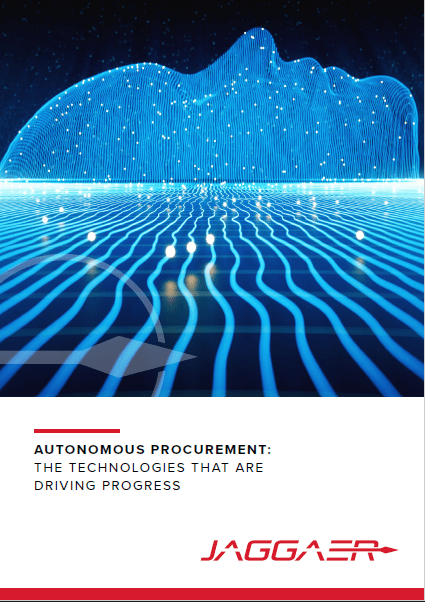 Autonomous Procurement: The Technologies That Are Driving Progress 
In our white paper, Autonomous Procurement: The Technologies that are Driving Progress, we provide a user's perspective of the technologies behind autonomous procurement. We review the technologies that make up autonomous procurement and provide the consequences and opportunities of each technological advancement. This white paper uncovers important ways today's ground breaking technologies can boost performance within the organization—not just by reducing costs but adding true strategic value.
This whitepaper explores:
A five year trajectory of how the enterprise will be automated—looking at the roles that most likely to be affected

The main functions and processes where procurement can expect to reap huge benefits from automation

The seven main technologies that are transforming procurement, moving the industry closer to true autonomy
More from Jaggaer
Procurement is a complex function that requires a lot of both flexibility and collaboration. At the end of the day, ERP capabilities just simply are not a fit and leave a lot to be desired.
Over the course of 2020, Procurement teams have had to demonstrate extreme agility and resiliency in the face of the Pandemic. Processes had to be adapted and remodelled to allow for rapid decision-making and efficient cross-functional collaboration. Data leveraging and Marketplace Intelligence are a crucial part in making this happen. Yet, in this climate of uncertainty, how can one trust the information gathered? What processes and solutions need to be in place to leverage this data efficiently? And how can this truly help Procurement support the business' decision-making and grow in this new normal.
From the World Procurement Congress Virtual 2020, here from Jaggaer as they showcase their platform and solution in a practical video demonstration.