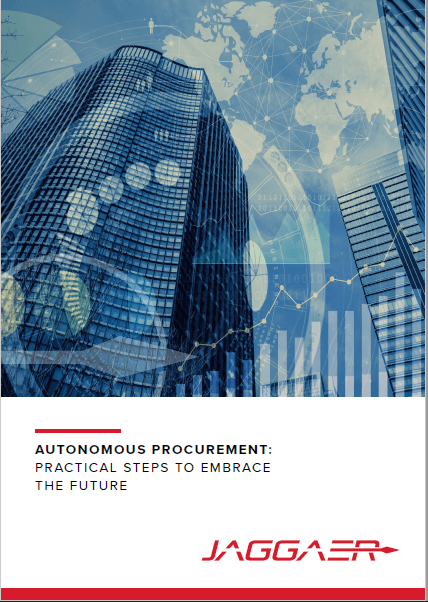 Autonomous Procurement: Practical Steps to Embrace the Future 
"What does autonomous procurement mean for procurement professionals?" 
In this white paper, you will learn:
What procurement organizations need to be doing now to prepare for autonomous procurement.

The applications that are driving us toward autonomous procurement including: guided buying, on-time delivery prediction, recommendation engines, and supply chain optimization

How autonomous procurement will help empower the procurement function, making it more strategic

The role service providers play in preparing the enterprise to take advantage of cutting-edge technology
More from Jaggaer
Procurement is a complex function that requires a lot of both flexibility and collaboration. At the end of the day, ERP capabilities just simply are not a fit and leave a lot to be desired.
Over the course of 2020, Procurement teams have had to demonstrate extreme agility and resiliency in the face of the Pandemic. Processes had to be adapted and remodelled to allow for rapid decision-making and efficient cross-functional collaboration. Data leveraging and Marketplace Intelligence are a crucial part in making this happen. Yet, in this climate of uncertainty, how can one trust the information gathered? What processes and solutions need to be in place to leverage this data efficiently? And how can this truly help Procurement support the business' decision-making and grow in this new normal.
From the World Procurement Congress Virtual 2020, here from Jaggaer as they showcase their platform and solution in a practical video demonstration.