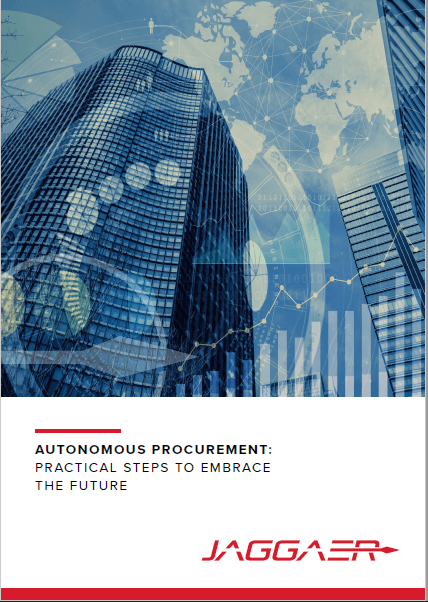 Autonomous Procurement: Practical Steps to Embrace the Future 
"What does autonomous procurement mean for procurement professionals?" 
In this white paper, you will learn:
What procurement organizations need to be doing now to prepare for autonomous procurement.

The applications that are driving us toward autonomous procurement including: guided buying, on-time delivery prediction, recommendation engines, and supply chain optimization

How autonomous procurement will help empower the procurement function, making it more strategic

The role service providers play in preparing the enterprise to take advantage of cutting-edge technology
More from Jaggaer
A strong supplier strategy is crucial today. From pandemics and natural disasters, to political unrest, and economic uncertainty, there are a lot of ways a supply chain can elevate (or damage) your business. We've assembled some of the biggest names in the industry to bring you insights on supplier diversity, supplier risk, and how to supercharge your supplier strategy. The series of three webinars will run from October to December.
There are many organizations leveraging assistive intelligence, which is a combination of rules-based processing and low-level robotic process automation (RPA), for invoicing, sourcing, and contract and supplier management. As we see these technologies mature, we are likely to see them filter into automating more processes and job functions in the future. In fact, some industry experts predict by 2024, more than two-thirds of management tasks will be automated to some extent, with AI being the primary technology behind this trend. 
Expert advice on how to automate category management procurement to enhance competitive differentiation.