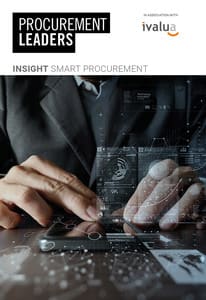 Insight: Smart procurement
To deliver on an ever-broadening set of objectives in today's uncertain market, procurement teams must work smarter and more strategically. Technology is approaching an inflexion point and is about to take procurement with it. Cognitive technologies and artificial intelligence (AI) hold great promise to both free capacity and bring actionable insights to one's fingertips. The future has rarely looked so exciting.
But none of these great promises can be achieved unless businesses address the critical underlying foundation: data quality. For smart procurement tools to work buyers need data that is complete, accurate and comparable across multiple systems, and ready to be worked on without further processing.
Download Procurement Leaders Insight: Smart Procurement white paper to find out:
What technologies procurement professionals are turning to today to push their organisations forward to be smarter and more strategic. Where procurement executives are looking to technology such as AI to add the most value in the future. Given that data underpins the smart technologies of tomorrow, how it is being made fit for purpose.
More from Ivalua
The healthcare industry is under immense strain from the pandemic. Many of the challenges faced by healthcare organizations prior to Covid-19, such as rising costs, decreasing margins and depleting cash reserves have been drastically enhanced. So, the need for change is dire. Healthcare delivery systems must become more efficient and productive.
In the last decade, financial regulation has grown tremendously with restrictive capital requirements, stricter risk management obligations and new data privacy laws. Abiding by this broad regulation corpus is not an option anymore, failing to do so jeopardizes the core business.
Which organizations are using Ivalua Procurement Software?