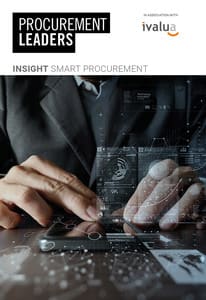 Insight: Smart procurement
To deliver on an ever-broadening set of objectives in today's uncertain market, procurement teams must work smarter and more strategically. Technology is approaching an inflexion point and is about to take procurement with it. Cognitive technologies and artificial intelligence (AI) hold great promise to both free capacity and bring actionable insights to one's fingertips. The future has rarely looked so exciting.
But none of these great promises can be achieved unless businesses address the critical underlying foundation: data quality. For smart procurement tools to work buyers need data that is complete, accurate and comparable across multiple systems, and ready to be worked on without further processing.
Download Procurement Leaders Insight: Smart Procurement white paper to find out:
What technologies procurement professionals are turning to today to push their organisations forward to be smarter and more strategic. Where procurement executives are looking to technology such as AI to add the most value in the future. Given that data underpins the smart technologies of tomorrow, how it is being made fit for purpose.
More from Ivalua
When crisis strikes, you need to act quickly. Even in normal times, successful procurement transformations need a strong start, to deliver measurable value, realize a ROI and gain support for further improvements. At Ivalua, we believe you shouldn't have to compromise between rapid value and being able to expand to meet longer term goals. Our Spend Management platform empowers you to transform FASTER and FURTHER.
If we've learnt anything from 2020, it is that we can't predict the future. The emergence of COVID-19 sent shockwaves through supply chains, and saw businesses become much more reliant on procurement teams to help mitigate the impact. For some teams, this was easier said than done. A lack of digitalisation in procurement hindered their ability to find solutions.
Unlock the full potential of your spend and supplier relationships to build a competitive advantage