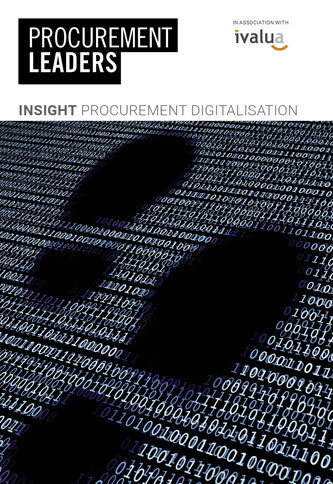 Insight: Procurement digitalisation
As procurement's list of objectives continues to grow at an unprecedented rate, most organisations are taking at least the first steps on their digital transformation journeys. Enhancing levels of digitalisation promises to help improve commercial effectiveness and agility by leveraging automation to free capacity and so allow procurement to focus on more strategic objectives.
Yet while the compelling range of benefits that organisations may potentially realise through a digital transformation are unquestionable, most face obstacles in the form of the technology they have selected or the talent at their disposal. In this whitepaper, published in association with Ivalua, Procurement Leaders speaks to leading CPOs to discover ways to overcome these barriers.
Download Procurement digitalisation to hear from a distinguished panel of experts, including CPOs of global enterprises and senior consultants, about:
Ways procurement chiefs can effectively transform procurement into a strategic value driver. Where leaders see the greatest potential to create value and a competitive advantage. The approaches to people, process and technology leaders take to deliver an effective transformation. The obstacles they have faced in their digital transformations steps others should take to overcome them.
More from Ivalua
When crisis strikes, you need to act quickly. Even in normal times, successful procurement transformations need a strong start, to deliver measurable value, realize a ROI and gain support for further improvements. At Ivalua, we believe you shouldn't have to compromise between rapid value and being able to expand to meet longer term goals. Our Spend Management platform empowers you to transform FASTER and FURTHER.
If we've learnt anything from 2020, it is that we can't predict the future. The emergence of COVID-19 sent shockwaves through supply chains, and saw businesses become much more reliant on procurement teams to help mitigate the impact. For some teams, this was easier said than done. A lack of digitalisation in procurement hindered their ability to find solutions.
Unlock the full potential of your spend and supplier relationships to build a competitive advantage