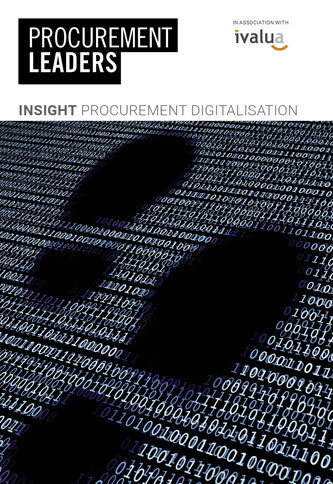 Insight: Procurement digitalisation
As procurement's list of objectives continues to grow at an unprecedented rate, most organisations are taking at least the first steps on their digital transformation journeys. Enhancing levels of digitalisation promises to help improve commercial effectiveness and agility by leveraging automation to free capacity and so allow procurement to focus on more strategic objectives.
Yet while the compelling range of benefits that organisations may potentially realise through a digital transformation are unquestionable, most face obstacles in the form of the technology they have selected or the talent at their disposal. In this whitepaper, published in association with Ivalua, Procurement Leaders speaks to leading CPOs to discover ways to overcome these barriers.
Download Procurement digitalisation to hear from a distinguished panel of experts, including CPOs of global enterprises and senior consultants, about:
Ways procurement chiefs can effectively transform procurement into a strategic value driver. Where leaders see the greatest potential to create value and a competitive advantage. The approaches to people, process and technology leaders take to deliver an effective transformation. The obstacles they have faced in their digital transformations steps others should take to overcome them.
More from Ivalua
The healthcare industry is under immense strain from the pandemic. Many of the challenges faced by healthcare organizations prior to Covid-19, such as rising costs, decreasing margins and depleting cash reserves have been drastically enhanced. So, the need for change is dire. Healthcare delivery systems must become more efficient and productive.
In the last decade, financial regulation has grown tremendously with restrictive capital requirements, stricter risk management obligations and new data privacy laws. Abiding by this broad regulation corpus is not an option anymore, failing to do so jeopardizes the core business.
Which organizations are using Ivalua Procurement Software?