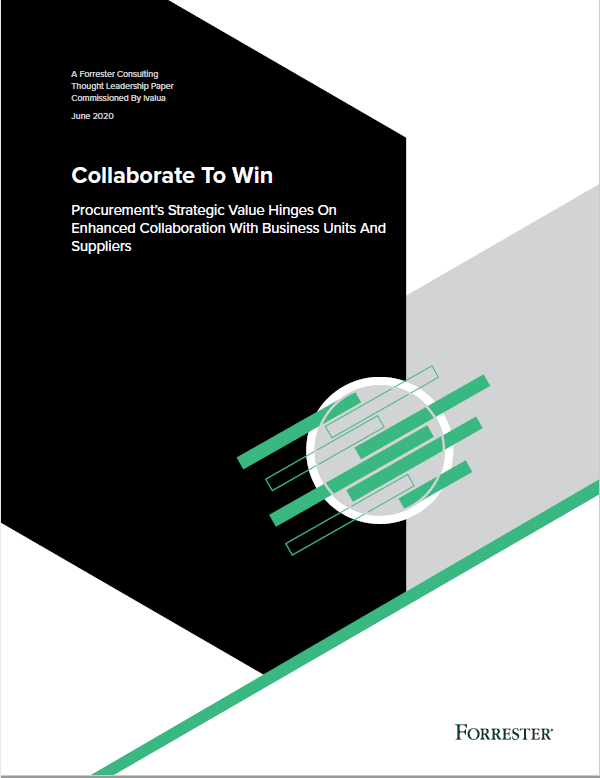 Collaborate To Win
The global pandemic has sharpened focus on the importance of procurement in almost all industries, with collaboration across supply chains proving to be particularly crucial. In leading organizations, the procurement function has evolved to deliver greater agility, innovation, and efficiencies through strategic collaborative processes. Collaboration isn't only about reducing risk and saving money, which is more important than ever; chief procurement officers (CPOs) and procurement teams also need to work seamlessly with internal stakeholders across business units, and with their entire network of suppliers, to create new products, react quickly to unprecedented changes in demand, and prepare for the intensely competitive markets that will exist while economies recover. In January 2020, Ivalua commissioned Forrester Consulting to evaluate the role of procurement in supporting business innovation through enhanced collaboration with internal stakeholders and external suppliers. Forrester conducted an online survey of 425 global finance, procurement, supply chain and sales decision makers in Europe and North America to explore this topic. We found that decision makers consider procurement a strategic partner that adds value, but there is room for improvement in collaboration with business units and suppliers. Enhanced collaboration built on openness and transparency, technology for improved information sharing, and aligned incentives all pave the way for greater supplier willingness to share innovation.
More from Ivalua
The healthcare industry is under immense strain from the pandemic. Many of the challenges faced by healthcare organizations prior to Covid-19, such as rising costs, decreasing margins and depleting cash reserves have been drastically enhanced. So, the need for change is dire. Healthcare delivery systems must become more efficient and productive.
In the last decade, financial regulation has grown tremendously with restrictive capital requirements, stricter risk management obligations and new data privacy laws. Abiding by this broad regulation corpus is not an option anymore, failing to do so jeopardizes the core business.
Which organizations are using Ivalua Procurement Software?