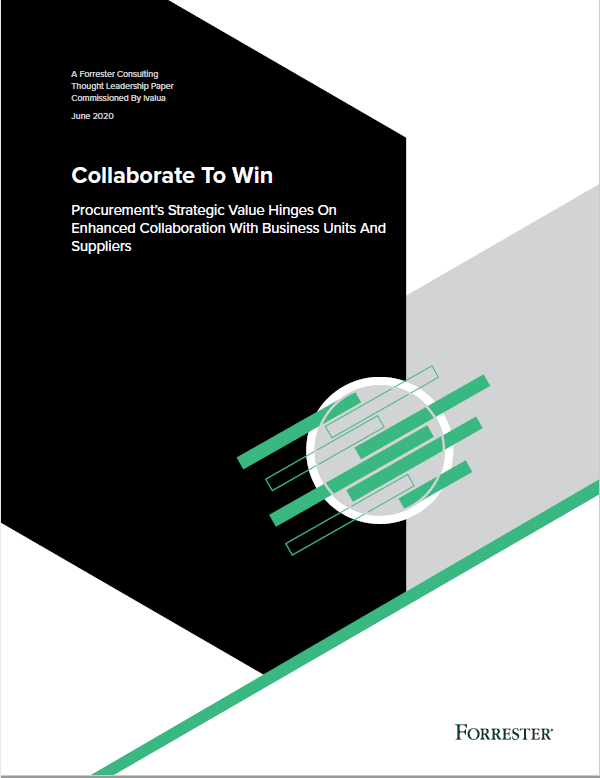 Collaborate To Win
The global pandemic has sharpened focus on the importance of procurement in almost all industries, with collaboration across supply chains proving to be particularly crucial. In leading organizations, the procurement function has evolved to deliver greater agility, innovation, and efficiencies through strategic collaborative processes. Collaboration isn't only about reducing risk and saving money, which is more important than ever; chief procurement officers (CPOs) and procurement teams also need to work seamlessly with internal stakeholders across business units, and with their entire network of suppliers, to create new products, react quickly to unprecedented changes in demand, and prepare for the intensely competitive markets that will exist while economies recover. In January 2020, Ivalua commissioned Forrester Consulting to evaluate the role of procurement in supporting business innovation through enhanced collaboration with internal stakeholders and external suppliers. Forrester conducted an online survey of 425 global finance, procurement, supply chain and sales decision makers in Europe and North America to explore this topic. We found that decision makers consider procurement a strategic partner that adds value, but there is room for improvement in collaboration with business units and suppliers. Enhanced collaboration built on openness and transparency, technology for improved information sharing, and aligned incentives all pave the way for greater supplier willingness to share innovation.
More from Ivalua
When crisis strikes, you need to act quickly. Even in normal times, successful procurement transformations need a strong start, to deliver measurable value, realize a ROI and gain support for further improvements. At Ivalua, we believe you shouldn't have to compromise between rapid value and being able to expand to meet longer term goals. Our Spend Management platform empowers you to transform FASTER and FURTHER.
If we've learnt anything from 2020, it is that we can't predict the future. The emergence of COVID-19 sent shockwaves through supply chains, and saw businesses become much more reliant on procurement teams to help mitigate the impact. For some teams, this was easier said than done. A lack of digitalisation in procurement hindered their ability to find solutions.
Unlock the full potential of your spend and supplier relationships to build a competitive advantage