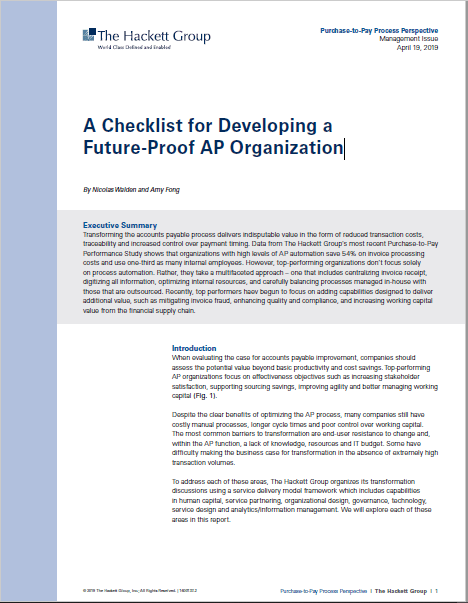 A Checklist for Developing a Future-Proof AP Organization
Transforming the accounts payable process delivers indisputable value in the form of reduced transaction costs, traceability and increased control over payment timing. Data from The Hackett Group's most recent Purchase-to-Pay Performance Study shows that organizations with high levels of AP automation save 54% on invoice processing costs and use one-third as many internal employees. However, top-performing organizations don't focus solely on process automation. Rather, they take a multifaceted approach – one that includes centralizing invoice receipt, digitizing all information, optimizing internal resources, and carefully balancing processes managed in-house with those that are outsourced. Recently, top performers have begun to focus on adding capabilities designed to deliver additional value, such as mitigating invoice fraud, enhancing quality and compliance, and increasing working capital value from the financial supply chain.
More from Ivalua
The healthcare industry is under immense strain from the pandemic. Many of the challenges faced by healthcare organizations prior to Covid-19, such as rising costs, decreasing margins and depleting cash reserves have been drastically enhanced. So, the need for change is dire. Healthcare delivery systems must become more efficient and productive.
In the last decade, financial regulation has grown tremendously with restrictive capital requirements, stricter risk management obligations and new data privacy laws. Abiding by this broad regulation corpus is not an option anymore, failing to do so jeopardizes the core business.
Which organizations are using Ivalua Procurement Software?