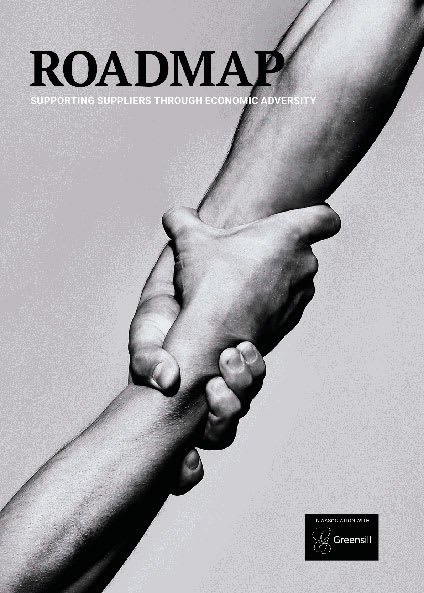 Roadmap: Supporting Suppliers through Economic Adversity
In an economic crisis, cash is king. To maximise working capital, businesses conserve cash and extend payment terms. Smaller suppliers, which typically operate with less cash on hand, suffer disproportionately.
Smaller suppliers are no less valuable than larger ones, being prized for their innovation, agility and responsiveness. Helping them to survive an economic crisis makes sounds business sense.
This Roadmap white paper, in partnership with Greensill, provides insights that will help CPOs support their suppliers through economic adversity. • There are several ways to extend such help, ranging from early payment to offering supplier development. • Facilitating access to working capital finance programmes can serve the interests of both supplier and buyer, providing the buyer with extended payment terms, while providing suppliers with expedited access to cash. • Small suppliers tend to find many large organisations are difficult customers due to a combination of lengthy payment terms, extended onboarding timescales and inappropriate one-size-fits-all policies and procedures. The white paper includes examples of measures enterprises are taking to help their small- and medium-sized suppliers during the Covid-19 crisis.
More from Greensill
The Covid-19 crisis has forced companies to reassess the criticality of their suppliers and how they use finance. During this session, hosted by Greensill, leading CPOs discussed the implications for their businesses
Supply chain finance, otherwise known as reverse factoring or working capital financing, provides an alternative. This Roadmap whitepaper explores what it is, how it works, the barriers that stand in the way and reveals why institutional investors increasingly consider suppliers' invoices to be an attractive investment opportunity.
The modern procurement function, working closely with finance and treasury, has the potential to facilitate the delivery of financially sustainable customer services that provide positive socioeconomic outcomes. Discover insights from a panel of experts who discussed this topic during a session, hosted by Greensill, during Procurement Leaders' World Procurement Congress Virtual, that explored the steps procurement teams are taking to use finance to deliver social benefits.