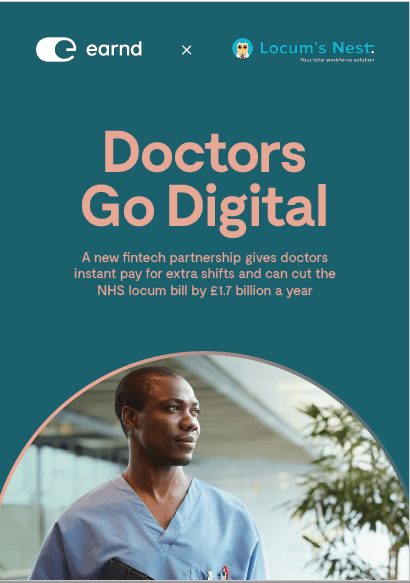 Doctors Go Digital
Tackling Covid-19 is the toughest battle the NHS has faced in its 70-year history, stretching already tight staff and financial resources to near breaking point at a critical time for one of the world's largest employers.
However, a new digital partnership has developed solutions that enable the NHS to cover staff shortages more efficiently, provide on-demand pay for doctors working additional locum shifts and can potentially reduce the NHS annual agency bill for temporary staff.
The new partnership is between Earnd whose on-demand pay model is revolutionising the way wages are paid – and Locum's Nest, whose innovative cloud-based platform enables NHS Trusts to anticipate and cover staff shortages more efficiently. It allows them to draw on medical staff across NHS staff banks rather than relying on costly agencies to provide locum cover.
More from Greensill
Credit for Latin American SMEs dried up when Covid-19 struck but a new Greensill partnership aims to unlock $750 billion of working capital
The Covid-19 crisis has forced companies to reassess the criticality of their suppliers and how they use finance. During this session, hosted by Greensill, leading CPOs discussed the implications for their businesses
Supply chain finance, otherwise known as reverse factoring or working capital financing, provides an alternative. This Roadmap whitepaper explores what it is, how it works, the barriers that stand in the way and reveals why institutional investors increasingly consider suppliers' invoices to be an attractive investment opportunity.