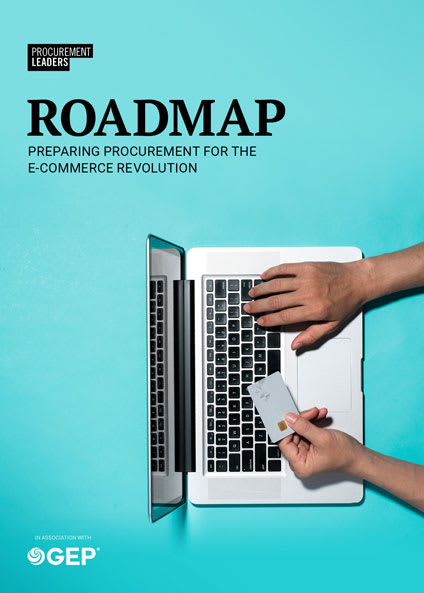 Roadmap: Preparing procurement for the e-commerce revolution
The Covid-19 pandemic has unleashed a consumer e-commerce revolution with far-reaching implications for both existing B2C retailers and as B2B organisations entering the consumer space. For years, there had been airy talk of the rise of e-commerce, and the consequent withering of physical retailing. This talk suddenly became very real, however, as Covid-19 infection rates increased throughout Europe and North America.
This Roadmap white paper, in partnership with GEP, provides insights that will help procurement chiefs and their teams adapt to the e-commerce revolution.
• Consumers' service expectations are high and rising. Cost-to-serve will increase, perhaps significantly.
• Many companies are drifting into the consumer e-commerce revolution without a considered strategy: omnichannel, for instance, is not something for companies to adopt lightly.
• Procurement organisations have a definite role to play: supply chain resilience and value engineering are going to matter more than ever.
More from GEP
Why do some procurement professionals find success on the fast track and others not so much? Check out a new GEP white paper that explores the five common mistakes that impede the success of procurement professionals within their own organizations. A must-read for success-minded sourcing and procurement professionals.
A new GEP paper explores how a technology-driven approach can help your procurement team get ahead of tail spend. The paper also discusses specific areas of tail-spend automation that you should focus on and prioritize for success.
Post-COVID-19 Category Outlook & Market Intelligence Report which analyzes the top direct and indirect spend categories, helping you get a fast, firm grasp of the new market dynamics.