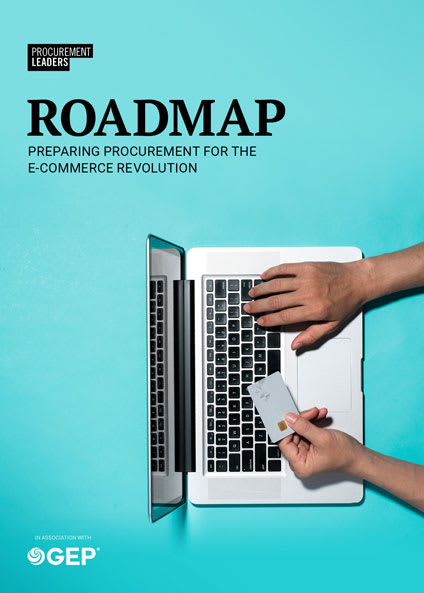 Roadmap: Preparing procurement for the e-commerce revolution
The Covid-19 pandemic has unleashed a consumer e-commerce revolution with far-reaching implications for both existing B2C retailers and as B2B organisations entering the consumer space. For years, there had been airy talk of the rise of e-commerce, and the consequent withering of physical retailing. This talk suddenly became very real, however, as Covid-19 infection rates increased throughout Europe and North America.
This Roadmap white paper, in partnership with GEP, provides insights that will help procurement chiefs and their teams adapt to the e-commerce revolution.
• Consumers' service expectations are high and rising. Cost-to-serve will increase, perhaps significantly.
• Many companies are drifting into the consumer e-commerce revolution without a considered strategy: omnichannel, for instance, is not something for companies to adopt lightly.
• Procurement organisations have a definite role to play: supply chain resilience and value engineering are going to matter more than ever.
More from GEP
The GEP Spend Category Outlook 2021 report reveals global megatrends that will drive spend management and supply chain strategies this year and beyond. The report includes critical market intelligence and insights for key direct and indirect categories to help you make informed spend management and supply chain decisions.
It's 2021 and many enterprises are still reeling from the unprecedented disruption of last year. For supply chain and procurement leaders, there's a lot more to do. And more questions than answers. Get a big leg up with the GEP Outlook 2021 Report — featuring eight critical leadership themes that will help you navigate uncertainty and thrive in the new normal. Published annually, the GEP Outlook Report is a trusted strategic guide for thousands of supply chain and procurement leaders across the world. Read today to inform and shape your strategy for 2021 and beyond.
Under-pressure businesses are recognising the need to source better — source smarter, more resiliently, and in more agile and strategic ways. Above all, perhaps, they must do so at a reduced cost. To the rescue: two familiar sourcing techniques, should-cost modelling and strategic sourcing, now being given a new lease of life thanks to the combination of fresh insights and technological advances.