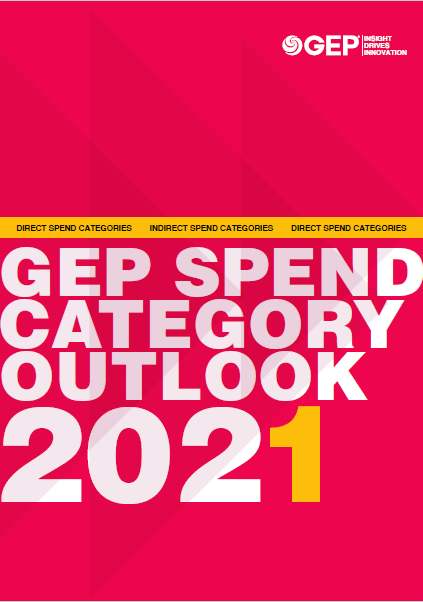 GEP Spend Category Outlook 2021
Your Guide for Smarter Sourcing and Spend Management.
For business spend management and supply chain professionals, 2021 will be unique in many ways. While the impacts of last year's disruption will continue to present several challenges, there will also be many opportunities.
What are these opportunities? And how can you make the most of them?
The GEP Spend Category Outlook 2021 report reveals global megatrends that will drive spend management and supply chain strategies this year and beyond. The report includes critical market intelligence and insights for key direct and indirect categories to help you make informed spend management and supply chain decisions.
It's a must-read report for all sourcing and procurement professionals, category managers, and supply chain leaders. Read today to plan and prepare for success in 2021.
More from GEP
If Just In Time (JIT) has leaned supply chains too far, the answer shouldn't be to go back to the era of 'just in case', with its bloated inventory holdings and lengthy throughput times. JIT has done too much good for that, delivering significant improvements in inventory, labour costs, quality, response times and space requirements. This Procurement Leaders whitepaper, produced in partnership with GEP, uncovers ways that procurement can look beyond inventory buffers as a way of securing their supply chains during times of crisis.
If you've ever wanted to pick the brain of a CPO, read CPO Study 2021: Digital Transformation Takes Center Stage. You'll learn that 80% of procurement leaders surveyed said up to half of their sourcing processes were automated, while 50% said indirect sourcing had slowed significantly. Download the report to see seven other key findings and even more CPO survey responses.
It's 2021 and many enterprises are still reeling from the unprecedented disruption of last year. For supply chain and procurement leaders, there's a lot more to do. And more questions than answers. Get a big leg up with the GEP Outlook 2021 Report — featuring eight critical leadership themes that will help you navigate uncertainty and thrive in the new normal. Published annually, the GEP Outlook Report is a trusted strategic guide for thousands of supply chain and procurement leaders across the world. Read today to inform and shape your strategy for 2021 and beyond.