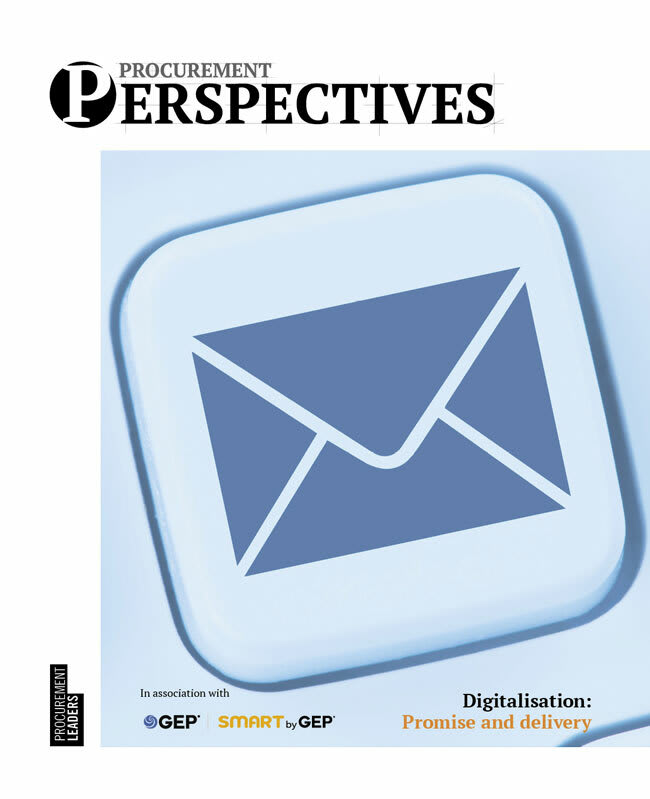 Digitalisation: Promise and delivery
Research from Procurement Leaders reveals a gap between the promise of sophisticated digitalisation programmes and the results such initiatives deliver. This is a challenge procurement functions must address if they are to add strategic value over and above transactional value.
The promise of new technologies such as artificial intelligence, machine learning, robotic process automation and advanced analytics is impossible to ignore – with the right approach and the right skills, procurement organisations can achieve the promised results.
This edition of Procurement Perspectives combines a distillation of the best in digitalisation thought leadership to have appeared in Procurement Leaders' publications, coupled with the latest cutting-edge viewpoints.
Download Procurement Perspectives: Digitalisation – promise and delivery, to learn:
The opportunities that lie in wait for ambitious and technologically astute functions. The areas in which the biggest gaps between procurement teams' expectations and results exist. The steps teams should take to ensure they deliver the promise of digitalisation.
More from GEP
The Covid-19 pandemic has unleashed a consumer e-commerce revolution with far-reaching implications for both existing B2C retailers and as B2B organisations entering the consumer space. For years, there had been airy talk of the rise of e-commerce, and the consequent withering of physical retailing. This talk suddenly became very real, however, as Covid-19 infection rates increased throughout Europe and North America. This Roadmap white paper, in partnership with GEP, provides insights that will help procurement chiefs and their teams adapt to the e-commerce revolution.
Why do some procurement professionals find success on the fast track and others not so much? Check out a new GEP white paper that explores the five common mistakes that impede the success of procurement professionals within their own organizations. A must-read for success-minded sourcing and procurement professionals.
A new GEP paper explores how a technology-driven approach can help your procurement team get ahead of tail spend. The paper also discusses specific areas of tail-spend automation that you should focus on and prioritize for success.