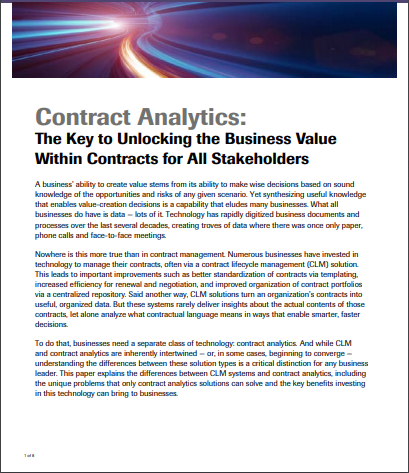 Contract Analytics: The Key to Unlocking the Business Value Within Contracts for All Stakeholders
Contract analytics are the key to unlocking the business value within contracts. Contract analytics make it possible to efficiently search large volumes of contracts, rapidly review all contracts to answer specific questions and review inbound (third-party) contracts to ensure compliance with business policies and industry regulations. In this white paper, Spend Matters, a leading expert for sourcing, procurement and supply chain management explains the benefits of contract analytics and how they compare to contract lifecycle management(CLM) solutions. The paper outlines three common examples of how AI-powered contract analytics can unlock business value across the entire agreement lifecycle, to help you make the case within your organization.
When you download this content, your data will be shared with our trusted partner DocuSign, who may contact you with further relevant information. I agree to receive marketing communications and promotional offers from DocuSign. By clicking the 'SUBMIT' button below, you accept the Terms & Conditions and acknowledge that your data will be used as described in the DocuSign Privacy Policy. For full details about how we process your personal data, please see the Procurement Leaders Privacy Policy.
More from DocuSign
In association with DocuSign, this roadmap whitepaper explores how procurement functions are reassessing their contract management processes and leveraging data to mitigate threats within their supplier agreements.
Join guest speakers from DocuSign and Accenture to learn: How data privacy laws such as GDPR and CCPA impact procurement professionals, How procurement leaders can understand and manage vendors' data privacy requirements going forward, How the work from home environment has impacted data protection practices and what companies can do to ensure vendors comply, How organizations are maturing their vendor data privacy programs
Data privacy regulations are changing rapidly. CCPA and GDPR are just a few of the regulations that affect the way procurement professionals must conduct business. If you want to understand the latest practices and thought leadership in managing vendors' data privacy compliance, join SIG and DocuSign as we explore the pertinent global and domestic regulations in data privacy. This study also includes perspectives from procurement executives who have successfully established strong vendor data privacy management programs and overcome data privacy challenges.