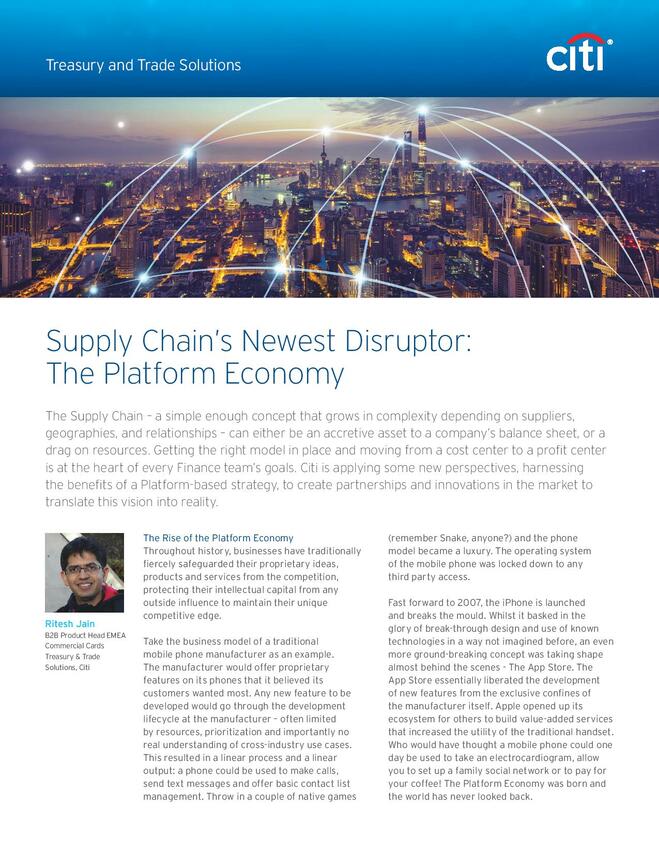 Supply Chain's Newest Disruptor: The Platform Economy
The Supply Chain - a simple enough concept that grows in complexity depending on suppliers, geographies and relationships - can either be an accretive asset to a company's balance sheet, or a drag on resources. Getting the right model in place and moving from a cost center to a profit center is at the heart of every Finance team's goals.
More from Citi
Business Spend Management platforms have transformed how companies buy goods and services. Now, the integration of Citi Virtual Card Accounts with Coupa Pay is delivering additional efficiency, visibility, and control benefits across the procure-to-pay process.
The world has been transformed by COVID-19 and the economic shutdown that governments imposed to halt its spread. Inevitably, commercial cards have been impacted.
To realize their full potential and extend their reach, card providers must work with payment facilitators, platforms and other fintechs to offer integrated solutions that deliver incremental value to all parties