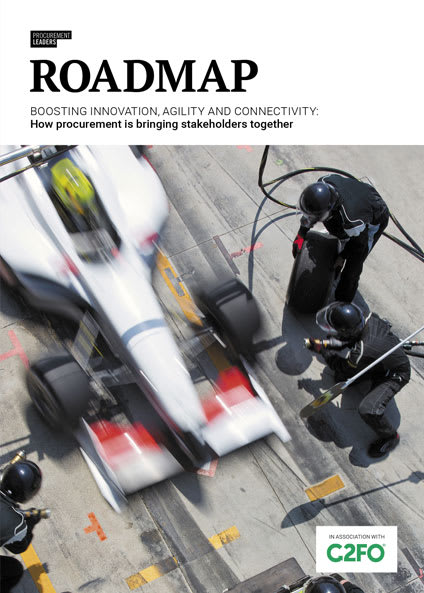 PL Roadmap: Boosting Innovation, Agility and Connectivity
This Procurement Leaders whitepaper, produced in partnership with C2FO, draws together thought leadership and research insights to explore the functions quest for alignment with business value.
In a complex and decentralised global environment, procurement teams need tools and ways of working to collaborate and communicate better, faster and more frequently with internal stakeholders.
At all stages of maturity, the team must focus on connecting business partners most effectively with supplier capability, driving communication and sharing value-creation opportunities. This whitepaper reveals what smart organisations are doing differently as they take on that mission.
Download this Roadmap whitepaper to gain insights into:
• How organisations obtain alignment in a complex and decentralized global environment.
• The keys to managing change, driving agile behaviours and enabling teams to have a closer focus on stakeholder needs.
• Best practices for incorporating an innovation-focus across an organisation.
More from C2FO
This whitepaper features C2FO's Sean Van Gundy explaininghow procurement and treasury can work together to reduce costs, optimise the use of cash and help suppliers gain access to much-needed affordable liquidity.
This whitepaper explains why win-win supply chain relationships deliver more profits, efficiency, and innovation — and why "win-win" offers the biggest benefit to buyers.
This whitepaper will focus on how to expand your cost savings strategy from insights shared by corporates and best practices from successful discount programs.