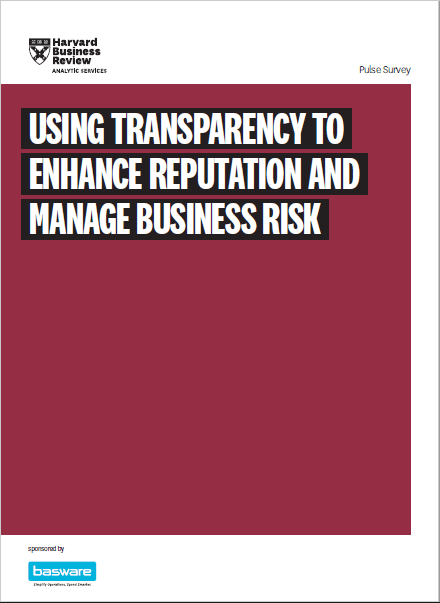 Using Transparency to Enhance Reputation and Manage Business Risk
The future landscape of business is made foggy by economic uncertainty paired with ever-increasing consumer scepticism. More and more, customers want transparency into what they're purchasing, manufacturing processes, and the ethical and environmental repercussions of their transactions. Equally, organizations want a similar transparency into their own business processes to improve employee engagement, brand reputation, operational efficiency and cost savings.
Building business transparency is a crucial part in increasing consumer trust, keeping up with the pace of business, and economic changes. According to a survey of nearly 800 global executives conducted by Harvard Business Review Analytic Services (HBRAS), respondents cited 3 crucial barriers standing in the way of achieving a more visible finance and procurement, and greater transparency throughout their organization.
Most importantly, the survey revealed that professionals who have already invested in improving visibility across finance and procurement are reaping the benefits of greater employee engagement, improved reputation, and increased revenue growth.
More from Basware
Finance and procurement alignment - traditional way of working
From the World Procurement Congress Virtual 2020 and Asia Pacific Procurement Congress Virtual 2020, here from Basware as they showcase their platform and solution in a practical video demonstration.
All companies want to gain effective control of how much – and with whom – they spend. To do this, they need to establish robust internal controls, enforce contract compliance and reduce maverick spending across their organisation. The best solution for most companies is to deploy a dedicated e-procurement solution for indirect procurement. In this eBook, we give you a 'how-to' guide for making e-procurement work for your business.