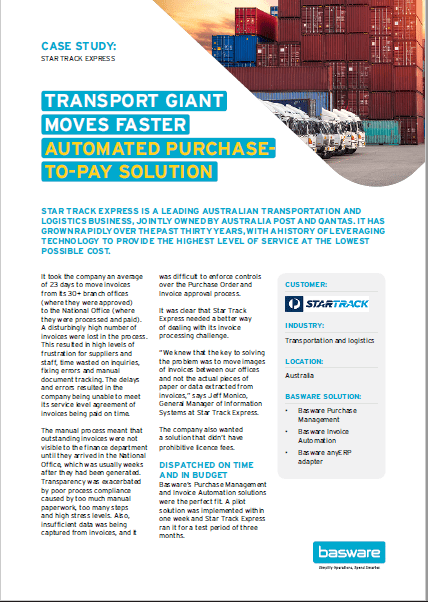 Transport Giant Moves Faster Automated Purchase-to-Pay Solution
STAR TRACK EXPRESS IS A LEADING AUSTRALIAN TRANSPORTATION AND LOGISTICS BUSINESS, JOINTLY OWNED BY AUSTRALIA POST AND QANTAS. IT HAS GROWN RAPIDLY OVER THE PAST THIRTY YEARS, WITH A HISTORY OF LEVERAGING TECHNOLOGY TO PROVIDE THE HIGHEST LEVEL OF SERVICE AT THE LOWEST POSSIBLE COST.
More from Basware
Finance and procurement alignment - traditional way of working
From the World Procurement Congress Virtual 2020 and Asia Pacific Procurement Congress Virtual 2020, here from Basware as they showcase their platform and solution in a practical video demonstration.
All companies want to gain effective control of how much – and with whom – they spend. To do this, they need to establish robust internal controls, enforce contract compliance and reduce maverick spending across their organisation. The best solution for most companies is to deploy a dedicated e-procurement solution for indirect procurement. In this eBook, we give you a 'how-to' guide for making e-procurement work for your business.