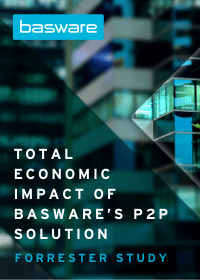 The Total Economic Impact of Basware's P2P Solution 2021
Basware commissioned Forrester Consulting to conduct a Total Economic Impact™ (TEI) study and examine the potential return on investment (ROI) enterprises may realize by deploying its Procure-to-Pay solution. The purpose of this study is to provide readers with a framework to evaluate the potential financial impact of Basware's Procure-to-Pay solution on their organizations.
The Basware P2P offering includes an accounts payable automation solution, e-invoicing services, and an e-procurement solution over the world's largest open business network.
More from Basware
At Basware, our aim is simple: to help you achieve 100% visibility across your entire procure-to-pay (P2P) operations. Because when your payments are transparent, your transactions are clear, and your processes are easy to observe, the benefits extend across the entire organization.
A new year comes with new business opportunities and new procure-to-pay (P2P) trends. 2021 offers us a fresh start coming out of a challenging 2020. At Basware, we've predicted that these top 10 trends will affect how businesses operate in both the immediate and near future. Download the eBook report, "Top Trends to Watch in Procure-to-Pay in 2021 and Beyond" and learn more about these innovative trends.
Finance and procurement alignment - traditional way of working