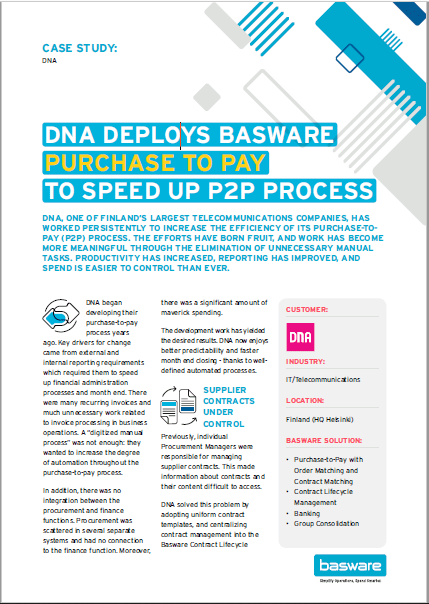 DNA Deploys Basware Purchase to Pay to Speed Up P2P Process
DNA, ONE OF FINLAND'S LARGEST TELECOMMUNICATIONS COMPANIES, HAS WORKED PERSISTENTLY TO INCREASE THE EFFICIENCY OF ITS PURCHASE-TOPAY (P2P) PROCESS. THE EFFORTS HAVE BORN FRUIT, AND WORK HAS BECOME MORE MEANINGFUL THROUGH THE ELIMINATION OF UNNECESSARY MANUAL TASKS. PRODUCTIVITY HAS INCREASED, REPORTING HAS IMPROVED, AND SPEND IS EASIER TO CONTROL THAN EVER.
More from Basware
Finance and procurement alignment - traditional way of working
From the World Procurement Congress Virtual 2020 and Asia Pacific Procurement Congress Virtual 2020, here from Basware as they showcase their platform and solution in a practical video demonstration.
All companies want to gain effective control of how much – and with whom – they spend. To do this, they need to establish robust internal controls, enforce contract compliance and reduce maverick spending across their organisation. The best solution for most companies is to deploy a dedicated e-procurement solution for indirect procurement. In this eBook, we give you a 'how-to' guide for making e-procurement work for your business.