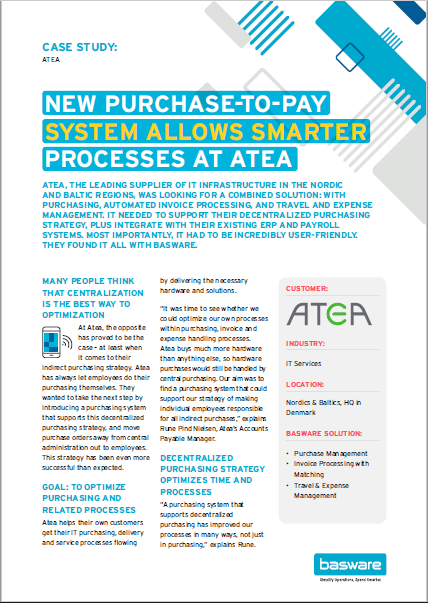 Atea: New Purchase-to-Pay System Allows Smarter Processes at Atea
ATEA, THE LEADING SUPPLIER OF IT INFRASTRUCTURE IN THE NORDIC AND BALTIC REGIONS, WAS LOOKING FOR A COMBINED SOLUTION: WITH PURCHASING, AUTOMATED INVOICE PROCESSING, AND TRAVEL AND EXPENSE MANAGEMENT. IT NEEDED TO SUPPORT THEIR DECENTRALIZED PURCHASING STRATEGY, PLUS INTEGRATE WITH THEIR EXISTING ERP AND PAYROLL SYSTEMS. MOST IMPORTANTLY, IT HAD TO BE INCREDIBLY USER-FRIENDLY. THEY FOUND IT ALL WITH BASWARE.
More from Basware
All companies want to gain effective control of how much – and with whom – they spend. To do this, they need to establish robust internal controls, enforce contract compliance and reduce maverick spending across their organisation. The best solution for most companies is to deploy a dedicated e-procurement solution for indirect procurement. In this eBook, we give you a 'how-to' guide for making e-procurement work for your business.
Building business transparency is a crucial part in increasing consumer trust, keeping up with the pace of business, and economic changes. According to a survey of nearly 800 global executives conducted by Harvard Business Review Analytic Services (HBRAS), respondents cited 3 crucial barriers standing in the way of achieving a more visible finance and procurement, and greater transparency throughout their organization: Technical transparency, Organizational transparency and Cultural transparency
2020 was the start of a new year and a new decade. And with those two new things came new purchase-to-pay (P2P) trends. But with a global pandemic challenging business progress, what trends are actually holding true and persisting through the new year? At Basware, we've predicted that these 8 top trends will affect how businesses operate in both the immediate and near future.