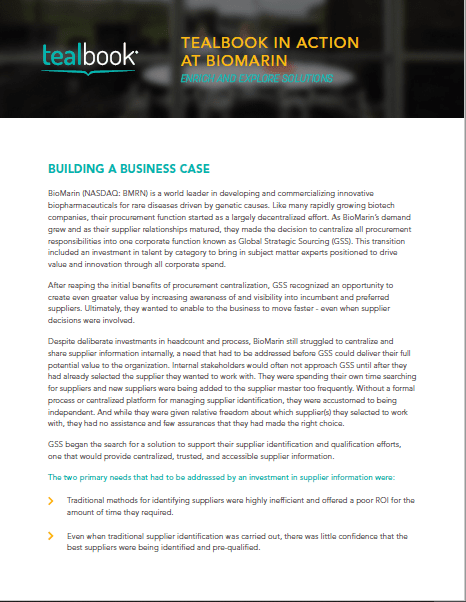 Tealbook in Action at Biomarin
BioMarin (NASDAQ: BMRN) is a world leader in developing and commercializing innovative biopharmaceuticals for rare diseases driven by genetic causes. Like many rapidly growing biotech companies, their procurement function started as a largely decentralized effort. As BioMarin's demand grew and as their supplier relationships matured, they made the decision to centralize all procurement responsibilities into one corporate function known as Global Strategic Sourcing (GSS). This transition included an investment in talent by category to bring in subject matter experts positioned to drive value and innovation through all corporate spend.
More from Tealbook
From the Americas Procurement Congress Virtual 2020, here from Tealbook as they showcase their platform and solution in a practical video demonstration.
Helping you transform your supplier diversity strategy
Week 1 features Tealbook CEO, Stephany Lapierre, who speaks about the power of good data, and the negative impact of poor supplier data.