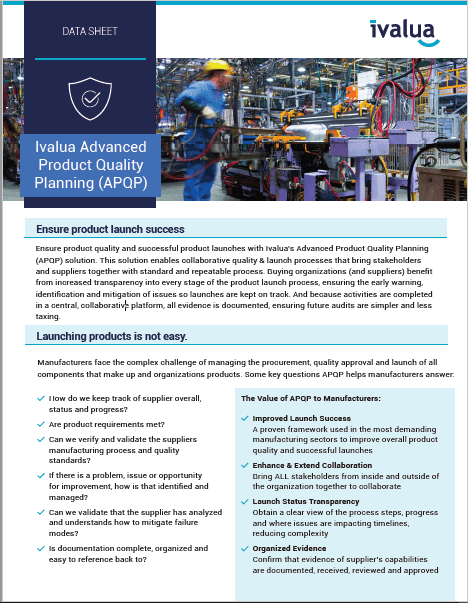 Ivalua Advanced Product Quality Planning
Ensure product quality and successful product launches with Ivalua's Advanced Product Quality Planning (APQP) solution. This solution enables collaborative quality & launch processes that bring stakeholders and suppliers together with standard and repeatable process. Buying organizations (and suppliers) benefit from increased transparency into every stage of the product launch process, ensuring the early warning, identification and mitigation of issues so launches are kept on track. And because activities are completed in a central, collaborative platform, all evidence is documented, ensuring future audits are simpler and less taxing.
More from Ivalua
The healthcare industry is under immense strain from the pandemic. Many of the challenges faced by healthcare organizations prior to Covid-19, such as rising costs, decreasing margins and depleting cash reserves have been drastically enhanced. So, the need for change is dire. Healthcare delivery systems must become more efficient and productive.
In the last decade, financial regulation has grown tremendously with restrictive capital requirements, stricter risk management obligations and new data privacy laws. Abiding by this broad regulation corpus is not an option anymore, failing to do so jeopardizes the core business.
Which organizations are using Ivalua Procurement Software?